Festivals
"The Great Escape"-Festival 2022: Line-up, Tickets & Preise
Hier findest du alle Infos zu Line-up, Terminen, Tickets und Preisen des "The Great Escape"-Festivals 2022.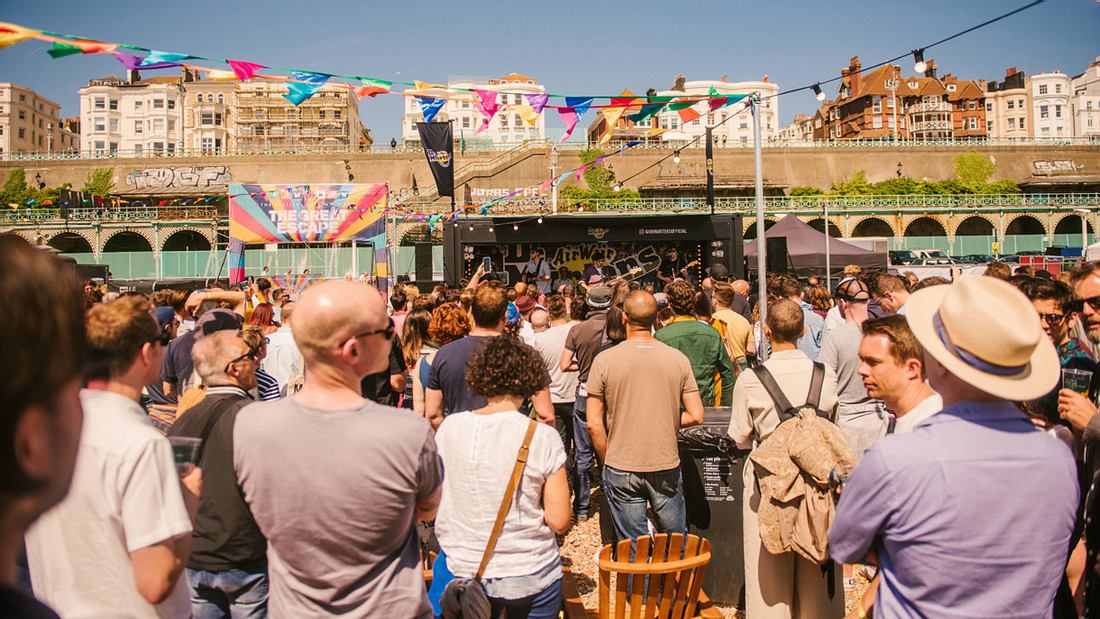 The Great Escape 2022: Standort
Die Veranstaltung ist mit dem Reeperbahn Festival in Hamburg oder dem Waves Vienna in Wien zu vergleichen. Neben wenigen bekannten Acts treten großartige Künstler auf, die noch nicht den internationalen Durchbruch geschafft haben.
Das Festival findet in Brighton, Vereinigtes Königreich, statt.
Etwa 3.000 Vertreter:innen der Musikindustrie besuchen im Laufe der Veranstaltung das Festival. Auf Konferenzen hat man die Möglichkeit, sich auszutauschen und ins Gespräch zu kommen.
"The Great Escape"-Festival 2022: Termine, Tickets & Preise
The Gret Escape 2022 findet vom 11. bis 14. Mai 2022 statt.
Die Preise für der Tickets variieren je nach Variante, vom Tages- übers Gruppen- bis hin zum 3-Tage-Ticket ist alles dabei.
The Great Escape 2022: Line-up
Abby Roberts

Alex Amor

Azure Ryde

rBaby Queen

Bad Waitress

Balimaya Project

Balming Tiger

Banks Arcade

Blair Davie

Bleach Lab

Bonnie Kemplay

Bryan's Music Tears

Budjerah

Cat Burns

Christian Lee Huston

Coach Party

Coco And The Lost

Crawlers

Damos Room

Dead Pony

Downtown Kayoto

Dylan Fraser

Eli Smart

English Teacher

Enola Gay

Fitzroy Holt

Frankie Beetlestone

Gen & The Degenerates

Grace Cummings

Grove

Hmd

Honeyglaze

Illuminati Hotties

Indigo De SouzaIris GoldJoe & The Shitboys

Joy Anonymous

Kathleen Frances

Kathryn Joseph

Katy J Peason

Kiddus

Kings Elliot

Kynsy

L'objectif

Little Quirks

Lock-in

Lokoy

Lucy Gooch

Lucy Mcwilliams

Madi Saskia

Madison Cunningham

Malaki

Margo Cilker

Maria BcMark Cake

Mattiel

Megan Wyn

Memes

Mickey Casllisto

Murman Tsuladze

Neone The Wonderer

Nutribe

Orions Belte

Panic Shack

Phoebe Green

Piri & Tommy Villiers

Pixey

Plumm

Porches

Porchlight

Portron Portron Lopez

Poutyface

Prima Queen

Quinzequinze

Rebecca Black

Rolla

Sad Boys Club

Shakira Alleyne

Sinead O'Brien

Soft Cult

Sofy

Sprints

Swim School

Taahliah

Tamzene

Team Picture

The Amazons

The Bobby Tenderloin Universe

The Byker Grove Fan Club

The Goa Express

The Let Go

The Shakes

The Vanns

Tommy Lefroy

Ultra Q

Vlure

Y

ard Act