Festival-Update
Sziget Festival 2020: Termine, Tickets, Preise, Camping und Line-up
Das Sziget Festival 2020 lockt wieder große Bands auf die "Insel der Freiheit" nach Budapest. Hier findet ihr alle Infos zu Tickets, Preisen, Camping und Line-up.
+++ Update: Das Festival findet aufgrund der Corona-Pandemie 2020 nicht statt +++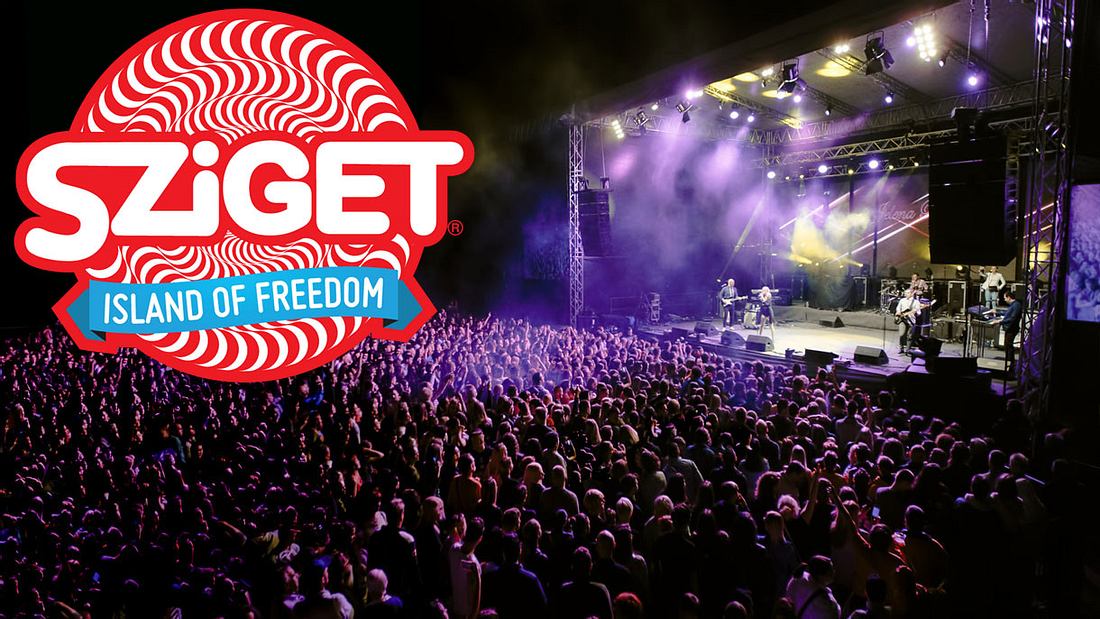 Sziget 2020: Termine
Sziget 2020: Tickets und Preise
7-Tage-Ticket 299 Euro zzgl. Gebühren
VIP 7-Tage-Ticket 599 Euro zzgl. Gebühren
Zudem gibt es ab Frühjahr 2020 auch 5-Tages-, 3-Tages- sowie Tagestickets zu kaufen. Alle Information gibt es hier.
Sziget 2020: Camping
Basic Camping: Besitzer von 7-, 5- oder 3-Tagespässen oder mehrerer aufeinander folgender Tagestickets (mindestens zwei) campen auf der ganzen Insel kostenlos. Ausnahme: Venues und Upgrade-Camping-Zonen. Kosten: 0 Euro pro Person
Alternativa-Camping: Echtes "Dolce Vita"-Feeling. Geschlossener Camping-Bereich, 24-Stunden-Rezeption, eigener Toiletten- und Duschbereich. Free Wi-Fi. Kosten: 95 Euro pro Person
Apero-Camping: Französische Gastfreundschaft. Geschlossener Campingplatz, 24-Stunden-Rezeption, eigener Toiletten- und Duschbereich, Free Wi-Fi. Kosten: 95 Euro pro Person
Siesta-Camping: Schattige Campingplätze und coole Atmosphäre. Geschlossener Campingplatz, 24-Stunden-Rezeption, eigener Toiletten- und Duschbereich, Free Wi-Fi. Kosten: 95 Euro pro Person
Bridge Camping: Superzentral gelegen an der legendären K-Bridge. Geschlossener Campingplatz, 24-Stunden-Rezeption, eigener Toiletten- und Duschbereich, Free Wi-Fi. Kosten: 95 Euro pro Person
Family Camping: 24-Stunden-Rezeption, eigener Toiletten- und Duschbereich, Spielhaus, Gemeinschaftsbereich, Tische, schattige Bereiche, Animateure, die Kinder lieben. Spezieller Bereich für die Kinder, wo sie auch (unter Aufsicht) ein Nickerchen machen können. Kosten: 95 Euro pro Person
Öko-Camping: Volle Rückendeckung für Mutter Natur. Solarbetriebene Duschen und Versorgung, wassersparende Toiletten, selektive Abfallsammlung und konstanter Abfalltransport, Reinigung des Camping-Geländes unter Verwendung von biologisch abbaubaren Reinigungsmitteln, Telefonaufladung und Steckdosen stehen kostenlos zu Verfügung und werden mit Ökostrom versorgt, Trinkwasserversorgung und eigene Sziget-Flasche, Öko-Wäscherei , 24-Stunden Rezeption, Free Wi-Fi. Kosten 149 Euro pro Person
VIP-Camping: Geschlossener Camping-Bereich mit Swimming-Pool, Gepäckaufbewahrung, Free Wi-Fi, 24-Stunden-Rezeption, Sicherheitspersonal, eigener Toiletten- und Duschbereich, Supermarkt, Snack Bar, Handy-Ladestation. Kosten: 189 Euro pro Person
Caravan-Camping: Enthält eine Park-Plakette, Zugang zum Caravan-Camping und VIP-Camping für Fahrer und Beifahrer. ACHTUNG: Fahrzeuge, die einen Wohnwagen ziehen müssen ausserhalb des Campingplatzes abgestellt werden! Extra-Duschen und –Toiletten auf dem VIP-Campingplatz. Kosten: 289 Euro pro Caravan
Sziget 2020: Line-up
Das Line-up fürs Sziget 2020 steht aktuell (Januar 2020) noch nicht fest. Sobald es Neuigkeiten gibt, findet du sie hier.
2019 hatte das Festival einige Granaten parat:
Foo Fighters
Ed Sheeran
Florence + The Machine
Post Malone
Twenty One Pilots
The 1975
The National
Macklemore
Martin Garrix
Richard Ashcroft
Franz Ferdinand
James Blake
Years & Years
6LACK
Tove Lo
Catfish and The Bottlemen
Mura Masa
Kodaline
Chvrches
Michael Kiwanuka
Johnny Marr
Jungle
Tom Odell
The Blaze
Razorlight
Big Thief
Son Lux
Richie Hawtin
Honne
Maribou State
David August
Jain
IDLES
Yeasayer
Yellow Days
Broken Social Scene
Parcels
Superorganism
Pale Waves
Tove Styrke
Boy Pablo
Masego
Iamddb
Protoje &The Indiggnation
Xavier Rudd
Coheed and Cambria
Frank Turner & The Sleeping Souls
ALMA
Gang of Youths
Frank Carter & The Rattlesnakes
W&W
Vini ViciI
Carnage
Jax Jones Live
Sigala
Yungblud
Kayzo
Tyla Yaweh
Of Mice & Men
Wanda
Elderbrook
Sonny Fodera
Polo & Pan
Khruangbin
Anna of The North
Roosevelt
Black Mountain
Hucci
Fakear
Grace Carter
Tamino
Valeras
Welshly Arms
Ocean Alley
Burak Yeter
ANNA
Avalon Emerson
B.Traits
Black Asteroid
Blawan
BUTCH
Colin Benders
Courtesy
Craig Bratley
Fjaak
Giovanni VerrinaI
John Digweed
KiNK
Luigi Madonna
Marco Bailey
Margaret Dygas
Mark Reeve
Marvin & Guy
Metodi Hristov
Objekt
Paul Ritch
Raresh
Red AxesI
Regal
Ryan Elliott
The Advent
wAFF
Younger Than Me
Blastoyz
Coone
David Gravel
Maurice West
Hippocampe Fou
Jungle by Night
Bosse
47Soul
Maruja Limón
Algiers
Sophie Hunger
Lord Esperanza
Coma Cose
L'Or du Commune
Whispering Sons
Carnival Youth
Naaz
Leoniden
I hate my village
Lucille CrewI
Idiotape
The Ringo Jets
Ivan Dorn
Pipes and Pints
La Ganga Calé
Rendez-Vous
Celeste Buckingham & King ShaolinSK
Mörk
Esti Kornél
Satellites
Belau
Cheap Tobacco
Hearts Hearts
Mongooz and the Magnet
Alyona Alyona
Anima Sound System
Blackwave
Charlie Winston
Cloud9+
Cosha
DeWolff
Fran Palermo
Gili YaloI
Gold Star
Gunwood
Ivan & The Parazol
Juniore
L'ENTOURLOOP ft. Troy Berkley & N'Zeng
Péter Sziámi Andfriends
Phum Viphurit
Platon Karataev
Psycho Mutants
REDRED
Romano Drom
SenaH
Shake Shake Go
Stella Donelly
The Angelcy
The Inspector Cluzo
The Sellout
Úzgin Űver
Wild Front
Cat Clyde
Cavetown
Ferris & Sylvester
Gold Star (Solo)
Jack&The Weatherman
Manny Walters
Miles Goodall
Rayland Baxter
Town of Saints
Little G Weevil
Apey
Babarci Bulcsú & Shackle
I am Soyuz
Járai Márk
Kardos-Horváth János
Pély Barna
Petruska
Redbreast Wilson
Aälma Dili
ABBA Tribute Show
ACid/DC – AC/DC tribute band
Adam Fields
Akos Wex b2b Dephton
Ámokfutók
Angie McMahon
Animal Cannibals
Apashe
B.I
BackIIBack / Bebe
BANDJ
Bernathy Zsiga
Besh o droM
Bestiák / Miss Bee
Betty Love
Big Ska
Black Snake Moan
Bon-Bon
The Road to Heaven
Bowie and Friends - David Bowie tribute
Bowland
Camp Fire with DanMark
Carlo Chicco Dj
TentCas Public & Kopergietery: 9
Chicks on Speed
Chuck & Perge
Cie Ekart: Les Dodos
Cimbalom Brothers
Ethiopian Dreams
Circus Raj
Coloboma live
Cvrdwell
Darling Peter / Ball Amsterdam
De La Swing
Denes Toth
Denis Nikolin
Desperado
DEVIN MOHR & JOCHEN KRONIERD
DJ Elf
DJ Gaetano FabriB
DJ GHIACCIOLI E BRANZINII
DJ KillaBeatMakerCOL
DJ PÉGÉ
DJ TÉGLA
Dobranotch
Doors Emlékzenekar (The Doors tribute band)
IMO the mouth is redundant
Fab Mayday Dj
Overseas NightFAKA liveZMB
Fanfara StationI/TU
Fiesta / Csordás Tibi
FLASH
Fmenezs
Francesco De Leo
FullDome presented by Marie Claire
Gabor Kraft
Garay
Gay Rights Are Future Rights?
Gaymen, Hallelloo
Geoff Whiting
Daily movieGirl (Lukas Dhont) 109', 201
Guy Nader | Maria Campos: Set of Sets
Go!Zilla
Gordon SouthernUK
Gravity and Other Myths: A Simple Space
Gulliver
Gzone: prideORIENTAL
Halott Pénz
Happy Gang / Cory
Her Skin
Hot X
Hungarian Rhapsody – Queen cover
Imre Kiss
Is Culture Too Gay?
Isu + Chrom + Crimson
Jaffa Surfa
James Cole & Collective Machine
Jean Tonique
JUCK
JumoDaddy
Khan of Finland live
Kis Grofó
KosziJanka
Kozmix
Krisz Rudi
La Banda Morisca
Licuadora: Ruido
La Méandre Collective: Avion Papier
Legars & Fedora
Les Commandos Percu: Silence!
Let's Get Drag, let's Get Glam
Lotfi Begi
Luca Bassanese & Piccola Orchestra Popolare
Lucia Manca
Luminarium - Daedalum sponsored by Jana
MADMOIZEL live
MallakhambIndia
Man + Machine
Manek + Hi
Marco Layera: Paisajes para no colorear
Mark Maier
Matt Green
Mayberian Sanskülotts
Metzker Viktoria
Mission Delirium
Mister K – Boys Gone Wild
Mojše Band
Mónika Lakatos & Gipsy Voices
Mr. Bogo Dj
NECC Party
New Level Empire
Nirvana by Lugosi Dani & Takács Vilkó
Nominee of Nagy-Szín-Pad 2019Nomad
Padödő
Papito: A Different PlayerARG
Pat Duff
Patrick Topping b2b Dennis Ferrer
Peter Bernath
Peter Felmeri
Peter Makto + Gregory S + Davko
Piknik Park
Pinups
Pizza Amore
Po:ti
Polarize
Pop xI
Punnany Massif
Purita D. & DJ Flush b2b
Quarter to Africa
Quimby
Raasa
Rage Against The Machine Tribute by Subscribe
Ramin Sayyah live
Rammsturm tribute to Rammstein
Raw Chicks.Berlin, 105'
Reckless Roses - Guns 'n' Roses tribute
Room Service - Bryan Adams tribute band
Route 8 live
Sabee & David Mole
Salice
Sandro Silva
SanFranciscoBeat
Scott Capurro
Secret Factory
Shabaam
The Sziget Portal
Daily movieShort Films 1
Daily movieShort Films 2
Daily movieShort Films 2
ShyGys
Sikztah
Sleeping Beauty Project: Dream Experiment
Sziget ComedySmaranda Luna
Snilloc
Sol Picó: Halab
SECRET FUSION pres.:SouveQ
Spencer Hill Magic Band
SPIGIBOY
Splash
StageSpot the Drop: Vorwürfe & Handgreiflichkeiten
SPYTEHGHOST
Steam Shape
Stolen Beat
Sunset Motherfucker
The Bluebay Foxes
The Faking News
The Hillbilly Mooshiners Play Mumford & Sons
The T in the LGBT
The Turbans
Tini Gessler
Tolo + Falcao + Fanki Ridm
Tom Deacon
TOTI TORONELL: MICRO-SHAKESPEARE
UFO
Winner of Nagy-Szín-Pad! 2019
Nominee of Nagy-Szín-Pad 2019
V-tech/Kefir
Viito
Virtual Riot
Women, Feminist, Fighter
ZZ Copy - ZZ Top tribute Hungary
The Queen's Night​#DancingQueen
Adam Bloom
​Astronaughty
​B.I.MBENIN
​Bal Brut
​BCUC - Bantu Continua Uhuru Consciousness
​Branko Bako Jovanović
​Branko Galoić & Skakavac Orkestar
​Briefs: The Second Coming
​Cie Les Bras Cassés: Poulets Crus
Cirque Alfonse: Tabarnak
Cirque Inextremiste: Extension
Clément Dazin: Humanoptère
​Co. Un Yamada: one piece
​Compagnie Paris Bénarès: Chamôh
​Daniel-Ryan Spaulding
Dave Thompson
​DI FILIPPO MARIONETTE: HANGING BY A THREAD
​Dikanda
​DJ Jet Lag
​DJ Kraouu and DJ Koulla P. Katsikoronou
​DJ Mambo Chick
​DJ Wonderbraz
​Elephants Laugh: MULJIL 2
​Elias Aguirre & Chey Jurado: Pez Esfinge
​Ezza
​Fire Costume Show
​Flip Fabrique: Attrape-Moi
Grass​GALMAE: It's not that way, it's this way
Hiroaki Umeda: Median
​Hudaki Village Band
​HURyCAN: Asuelto
​Jaakko Laitinen & Väärä Raha
Joan Catalá: Pelat
​Lajkó Félix
​Las Bajas Pasiones
​Laskaar
Lucy Suggate: PILGRIM
MADA (Buddha Bar)
MAPPLETHORPE (Ondi Timoner) 95', 2018
​Mister Piano
Modern Table: Darkness Poomba
​Monsieur Doumani
​Mumusic Circus: Flou Papagayo
The Memories
​Parno Graszt & Bohemian Betyars
Persephone
​Puerto Candelaria
​San Salvador
Mosh Split
Az Ügy
​SABOR
​Télamuré
​The Gipsy Marionettist
​THE STRANGE TRAVEL OF MR. TONET
TRANSZVARIÉTÉ
​Violons Barbares
​Vogue Workshop with Raisha Cosima
Yass!
​ZOORD feat. Szokolay Dongó Balázs & Mogyoró Kornél
Foco alAire: LOSTHEULTRAMARMEX
Good morning dance
​Le Grand Jeté !: Turn around boy
Eine Übersicht aller Festivals 2019 in Deutschland findet ihr hier!