Festival-Update
Wacken 2020: Termin, Tickets, Preise, Camping, Line-up
Das Wacken-Festival 2020 wirft bereits seine Schatten voraus. Hier gibt's alle Infos zum Line-up, Tickets, Preisen und Camping.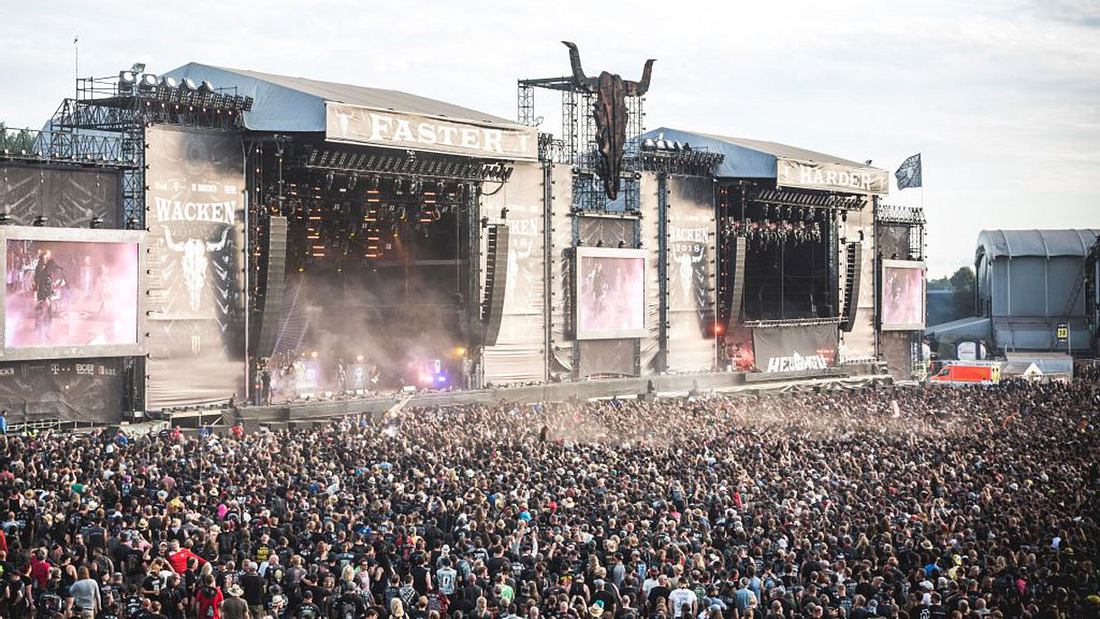 Wacken-Festival 2020: Informationen
Wacken 2020 bedeutet wieder Horden schwarz gekleideter Menschenmassen in der Provinz. Das Festival begründet seine Faszination auch aus dem Gegensatz von enthusiastischem Rock-Fan zu unaufgeregtem Dorfbewohner nordischer Bauart.
In jedem Jahr zieht das Mega-Event unglaubliche 85.000 Metalheads aus aller Welt in die Provinz. Seit 1990 hat sich das einst beschauliche Spektakel damit zu einem Global-Player-Ereignis in Sachen Heavy-Metal-Musik gemausert.
Wacken-Festival 2020: Termin & Ort
Wacken 2020 geht vom 30. Juli bis 01. August 2020 in der kleinen Ortschaft Wacken über die Bühne. Wacken ist ein beschauliches 1800-Einwohner-Seelendorf in Schleswig-Holstein, etwa zwölf Kilometer nordwestlich von Itzehoe.
Wacken-Festival 2020: Tickets und Preise
Wacken 2020 ist bereits jetzt komplett ausverkauft. Der Vorverkauf startete am 05. August 2019 um 00:00:01 und nach 21 Stunden war kein Ticket mehr übrig! Eventuell sind Tickets noch über diverse Reiseveranstalter zu bekommen.
Die Tickets bewegten sich im Vorverkauf zwischen 229 Euro und 239 Euro.
Der Ticketversand startet nicht vor September 2019.

Leistungsumfang des W:O:A Tickets
Camping ohne Zusatzkosten ab Montag, 27.07.2020
Camping direkt am Auto
Kostenfreie Nutzung aller Duschen und Toiletten
Live-Musik ab Mittwoch, 29.07.2019, bis einschließlich Samstag, 01.08.2018
Über 150 Acts auf 8 Bühnen
Umfangreiches Rahmenprogramm mit Themenschwerpunkten wie Mittelalter und Endzeit
Wacken-Festival 2019: Camping
Das Campen ist generell im Preis enthalten und es bedarf keiner Extra-Zuschläge, egal wie ihr zum Festival anreist. Auch beim Wacken 2019 bietet mein-zelt-steht-schon.de diverse Zelte zum Mieten an. Jetzt brauchst du nur noch das richtige Camping-Equipment und es kann losgehen.
Wacken 2020: Line-up (vorläufig)
Judas Priest
Amon Amarth
Mercyful Fate
At The Gates
Hypocrisy
Venom
Sodom
Death Angel
Sick Of It All
Beast In Black
Nervosa
Cemican
Wacken-Festival 2019: Line-up
Aborym
Acranius
Acres
Airbourne
Alabama Black Snakes
All Hail The Yeti
Angelus Apatrida
Anthrax
Asrock
Athica
Avatar
Axxis
Baby Face Nelson
Bai Bang
Battle Beast
Beyond The Black
Black Stone Cherry
Bleed From Within
Bloodywood
Body Count feat. Ice-T
Brass Against
Brenner
Bullet for My Valentine
Cancer
Cesair
Christopher Bowes and His Plate of Beans
Chumatskyi Shlyah
Coppelius
Cradle of Filth
Crazy Lixx
Crematory
Crisix
Critical Mess
Crobot
D-A-D
Damnation Defaced
Dampfmaschine
Dark Funeral
Deathstars
Delain
Demons & Wizards
Der Fluch des Drachen
Diamond Head
Diary of Dreams
Die From Sorrow
Die Happy
Die Kassierer
Dirty Shirt
Downfall of Gaia
Dream Spirit
Drunken Swallows
Duivelspack
Eclipse
Eisbrecher
Eluveitie
Emil Bulls
Equilibrium
Evergrey
Extrabreit
Facing The Gallows
Fall of Order
Fiddler's Green
For I Am King
Frog Leap
Gama Bomb
Gernotshagen
Girlschool
Gloryful
Gloryhammer
Goat Ripper
Grave
Hamferð
Hammerfall
Harpyie
Hämatom
Jared James Nichols
Jinjer
Kaizaa
Krokus
Kvelertak
Kärbholz
Lagerstein
Legion Of The Damned
Leviathan
Life of Agony
Lucifer Star Maschine
Manticora
Meshuggah
Michale Graves
Molllust
Mono Inc.
Monstagon
Monster Magnet
Morpholith
Mr. Hurley & Die Pulveraffen
Myrath
Nachtblut
Nailed to Obscurity
Nashville Pussy
Nasty
Necrophobic
Night In Gales
Nordjevel
Of Mice & Men
Operus
Opeth
Paddy and The Rats
Parkway Drive
Powerwolf
Primordial
Prong
Prophets of Rage
Queensrÿche
Rage
Ragnaröek
Reckless Love
Reliquiae
Rose Tattoo
Sabaton
Santiano
Saor
Savage Messiah
Saxon
Septicflesh
Sibiir
SikTh
Skew Siskin
Skyclad
Skyline
Skynd
Skáld
Slayer
SOiL
Soul Demise
Stoneman
Subway to Sally
Suidakra
Sweet
Tanzwut
Tausend Löwen Unter Feinden
TesseracT
Testament
The Adicts
The BossHoss
The Crown
The Damned
The Lazys
The Linewalkers
The Moon and the Nightspirit
The New Roses
The Night Flight Orchestra
The O'Reillys and the Paddyhats
The Quireboys
The Rumjacks
The Sinderellas
The Sisters of Mercy
The Slyde
The Vintage Caravan
The Wild!
Thy Art Is Murder
Torment
Trainwreck
Tribulation
tuXedoo
UFO
Unleashed
Uriah Heep
Vampire
Velvet Viper
Venom Inc.
Veritatem Solam
Versengold
Victims of Madness
Violons Barbares
Vltimas
Vogelfrey
Warkings
Wiegedood
Windhand
Within Temptation
Witt
Zuriaake
Zur Übersicht aller Festivals in Deutschland inklusive Daten geht's hier entlang!
Zur offiziellen Wacken-Festivalseite
Auch interessant:
Reeperbahn Festival 2019: Line-up, Preise und Tickets
MS Dockville Festival 2019: Line-up, Tickets und Preise
Wacken 2019: Video